Be a part of their daily routine with custom souvenir cups.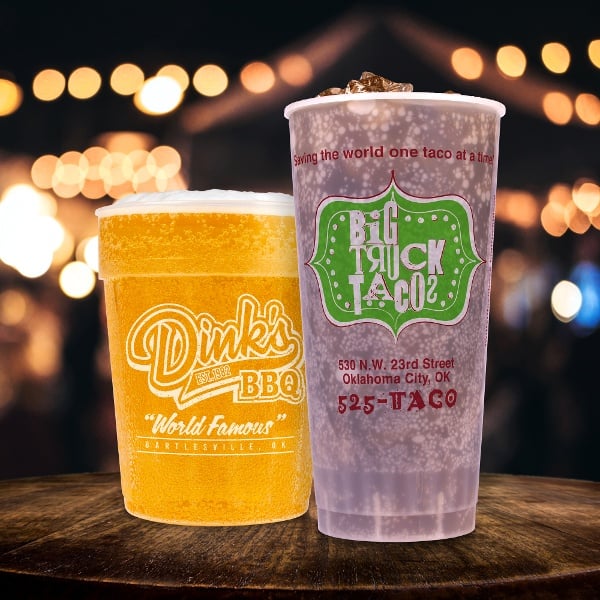 How would you like to access your customer from wherever they are — 24/7, 365 days a year?
You can, through the power of a custom cup.
At Morrison Cup Solutions, we know the importance of branding your cup. A personalized souvenir cup can be a collectible, memento, or keepsake from a fondly remembered event. It can also be a way for a customer to support a local business and a way to evangelize your brand. Custom cups increase customer loyalty, up to 33 percent per promotional item. What's a better way to develop that brand relationship than with your brand's custom plastic cup in your customer's hands?
Consistently, we find that we're the most effective solution provider for customized branded souvenir or stadium cups. When you work with Morrison Cup Solutions, you'll find a simplified and streamlined ordering process that takes the headache out of creating your personalized cup solution.
Not sure which option is suitable for what you do? Check out our guide to cup sizing to find the right custom stadium cup for you and your business.
Don't sweat the details. That's our job.
Learn more about our process and substrates.
Custom printed plastic cups — designed with your unique artwork.
There's hard science to back up the importance of personalized cups. For every dollar spent on personalized promotional items, a company can yield anywhere from 100 to 1,000 unique ad impressions — compared to just 17 to 200 for traditional broadcast TV and radio spots. That's a lot of ad power in just pennies on the dollar.
When you work with our design team, forget your logo in the middle of some bland white cup. We turn your cup into the very extension of your brand, turning your logo or art into a wholly unique branded experience.
And if you don't have access to your logo files? We can rebuild it for you. None of the other custom cup printers out there will do that.
The Utility of a Custom Cup
Custom printed souvenir cups are the perfect solution for when you want to put your logo in people's hands. Some of the most popular locations for our custom printed cups are:
Coffee shops - Our custom printed souvenir cups display your unique branding and help your business stand apart from others.
Restaurants - Restaurants serve customers indoors and to-go with our high-quality custom cups.
Business events - Print a run of cups for your next convention, trade show or business meeting to show you have a keen eye for detail.
Conferences - Showcase your custom cups to share your vision or mission with like-minded individuals at conferences.
Venues - If you are showcasing the latest artists, musicians or other performers, let custom cups increase your sales for souvenir goods.
Outdoor events - Whether you run an outdoor skating rink, operate carriage rides or work at the farmer's market, outdoor events are sometimes the perfect venue for custom cups to help keep your customers warm on a cool day.
Food trucks - One of the best aspects of running a food truck is being able to move your business to where the demand is. Using a custom printed cup as part of your offerings reminds customers of your truck and can help invite them back to it time and time again, wherever you happen to be parked.
And that's just the beginning!
While you can use your custom cups anywhere you want to, you can expect to get more bang for your buck when you use them at large events as a staple in your business.
Souvenir cups make a lasting impression.
Cups are a great way to remember an impactful event or a fantastic vacation. Whether it's a stadium cup from a game you'll never forget or from the gift shop, cups combine the functional with the decorative for a perfect memento. That's where the souvenir cup comes in.
You've seen them before, but never like this. Tall and made of a sturdy plastic substrate, souvenir cups are affordable but built to last. And better yet, they're large enough to prominently feature the name and logo of the unforgettable destination they came from.
Whether you're the proprietor of a stadium, casino, cantina, or anything else your customers are excited to visit, custom souvenir cups will help your brand and the great experience they had at your establishment stay in their minds for a long time to come.
Who needs a custom souvenir cup? Everybody.
Ready to customize your brand's new best friend? We've served almost every industry imaginable.
If you don't see your industry listed, drop us a line. We'd love to work with you.
What does it take to get my custom souvenir cups printed?
Our souvenir cups have a broad spectrum of prices from $0.12 to $0.39 per piece. If you'd like more specific information, use our custom cup tool to figure out your price estimate!
Some variables include cup selection, run size, turnaround time, shipping choices, and design complexity.
Our award-winning customer service team has your back. They can look at every factor (low or high volume run, shipping, and more) to come up with the best price for your budget. Managing on-going supply via your distributor or direct is what we do.
Want to learn more about custom cup solutions?
Get our catalog to go! Download our free guides below.