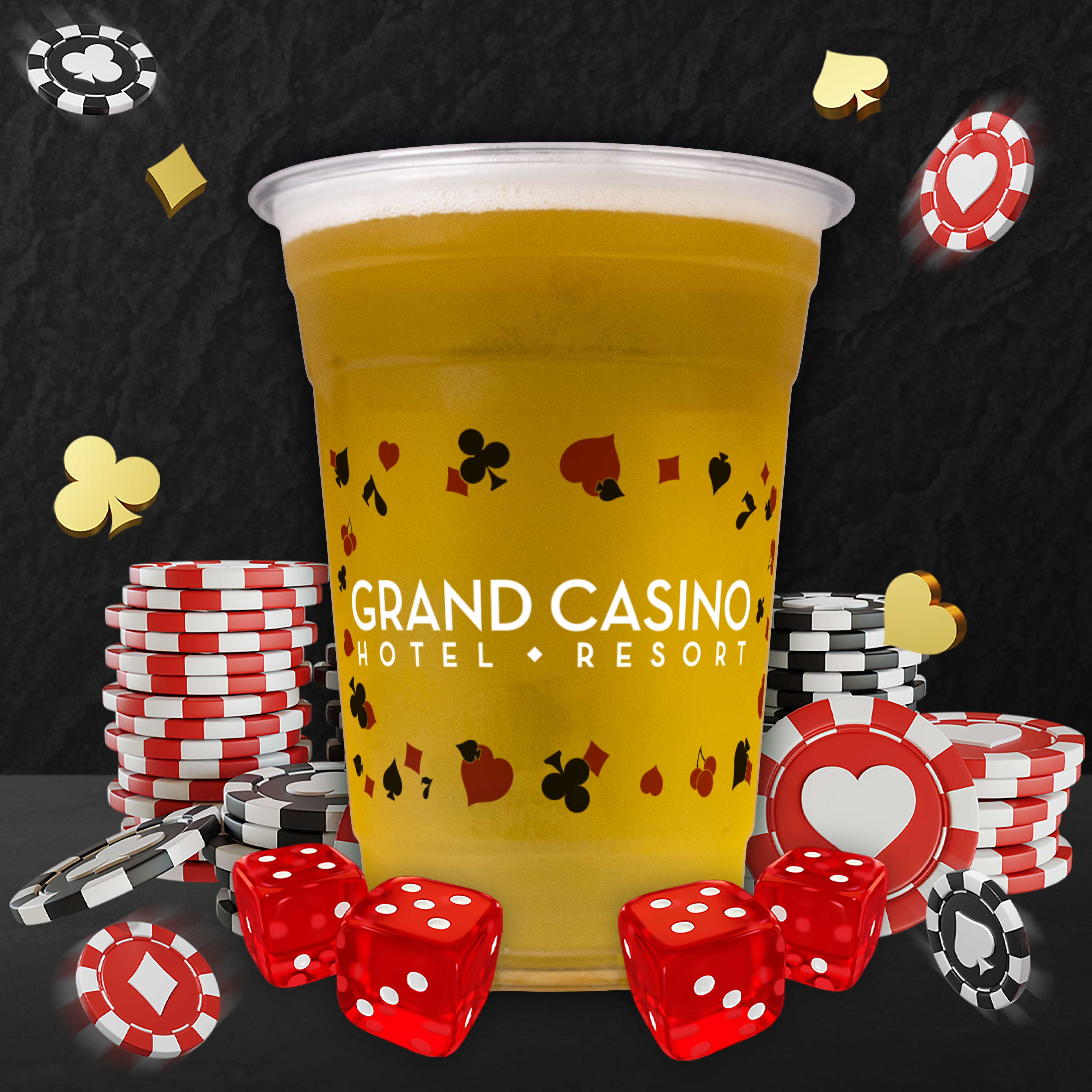 Your casino wins with custom souvenir and disposable cups.
Working with Morrison is like being a member of our Player's Club. Perks include one of the lowest minimum run requirements — as low as 5,000 — in the food service industry. This enables your casino to buy the inventory you need, which in turn requires less initial investment and storage space.
Our top-of-the-line customer service department, like your own casino's concierge service, is ready and willing to take care of any issues and make sure all of your questions are answered. Another perk, our fast turnaround, features conveniently low lead times and fast shipping. We offer a talented in-house creative department to help you build the perfect cup to promote your brand, and like free spins, there is no extra charge.
Morrison Cup Solutions can help give your customers a winning impression of your casino with our wide variety of custom printed cups.
Bet on our custom printed cups.
The great thing about our low minimum runs is that you can customize cups for each area of your casino without overwhelming your storage capacity. We can fit you with cups for those complimentary drinks served on the casino floor, cold paper and plastic cups for your restaurants and bars, and souvenir cups for the casino's event centers and concert venues.
Customized souvenir cups also add a nice touch to your casino's festivals, special events or parties. Souvenir cups can also be given to patrons to use on the casino floor to carry chips at the table games or as coin cups for the slots.
When your customer goes home, they can take the custom printed cup with them as a favorable reminder of the fun time spent at your casino making your brand impact go the extra mile.
Coffee, Soda, Alcoholic Beverages and More!
Explore our specific products to see what is right for you.
You can count on Morrison Cup Solutions.
The casino industry is fast-paced, competitive and non-stop. As management you have a lot to worry about — machines, employees, security, food and beverage provisions, entertainment, the list goes on and on. Working with us is one way you can simplify the process.
Morrison Cup Solutions offers a wide selection of quality products. Our one-on-one customer service ensures ordering wholesale printed cups is the easiest part of casino management.
When you work with Morrison Cup Solutions, you'll get:
Streamlined Packaging
Use the whole line of Morrison products in venues like the self-serve complimentary coffee counter and dispensed fountain area.
Smaller Runs
Smaller custom cup runs allow you to choose different custom printed cups for specific areas of the casino. With runs as small as 5,000 units, storage will be easier for orders of foam cups for the coffee bar, paper or plastic cups for the fountain drink areas and souvenir cups for the event venue or casino floor.
Inventory Control
We keep lid hassle to a minimum with a universal lid for 12 - 24 oz foam, paper and plastic cups. Plus, we offer floor stocking for many orders, depending on order size.
Top-Notch Customer Care
Morrison Cup Solutions recognizes that quality customer service is one of the keys to a growing customer base. As our customer, you will have direct access to your sales rep who will coordinate prompt solutions to your casino's needs.
Working with
Morrison Cup Solutions

means working with the best.

Since 1912, Morrison has delivered exemplary customer service that's unparalleled by the rest of our industry. We're ready to hear from you.