Offering a wide selection of coffee shop supplies and cups, perfectly branded for your business.
You already know how to keep your customers happy: a perfect cup of coffee or favorite café beverage.
The one thing that could make that drink better? A sturdy, custom branded cup from our team at Morrison Cup Solutions.
.
Your Brand on Display
We can help your business improve your existing product offerings while helping you go beyond traditional coffee. The quality product you serve to your valued clientele should only be delivered in the best. Whether your customers order iced tea, hot tea or they dream up a blended gourmet coffee beverage, we can supply the custom printed cup that increases their satisfaction while being picture-perfect for social media.
Variety of Styles
Plastic, paper, foam — you want it? We have it. Your brand will shine through the use of a variety of cup substrates.
Cups from Morrison Cup Solutions also come in multiple sizes, all fully customizable with your branding. Whether you get plastic or paper cups, your brand can be all over a custom cup design
Flexible Shipping
With flexible shipping and nationwide distribution, Morrison has the production lead times your business requires. And when you work with us, rest assured, you can be confident that you'll receive quality cups that showcase your beverage.
Offerings as unique as your business.
Sustainable Cups
Eco-consciousness is on the rise, and coffee shops and roasters need to respond to this shift. Almost half of all Millennials will make a purchasing choice based upon the sustainability of the product. That's why Morrison Cup Solutions offers cups that fit their lives, as well as your bottom line, through our compostable paper cup options.
Recyclable Cups
All our PET and PP plastic cups can be recycled through most municipal recycling programs. Please get in touch with your local government to see what recycling and composting options are available near you.
Coffee, Tea, Blended Drinks and More!
Explore our specific products to see what is right for you.
Increase your brand recognition without increasing the bottom line.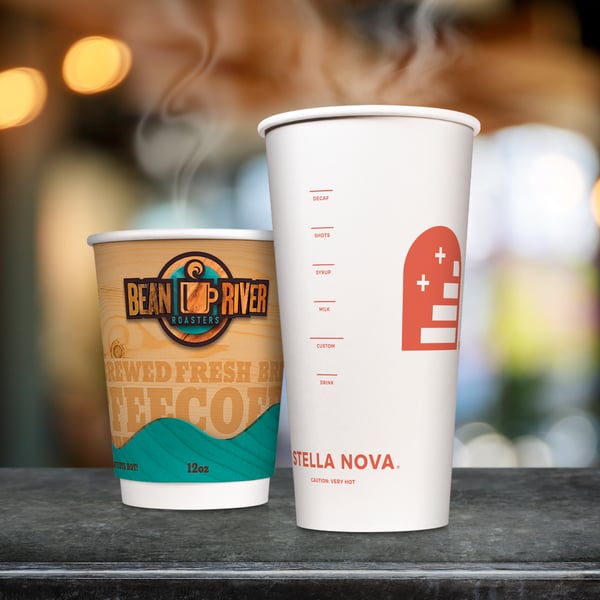 When they walk away from your business, what do you hope your customer will remember? Hopefully, they'll remember how the drink tasted. But will they remember your name without a custom branded cup? For so long, many small to medium business owners have found the custom branded option out of financial reach, despite how important it is to long-term growth.
However, you can count on Morrison Cup Solutions for help.
Whether you're a food truck, local coffee chain or set up a stall in the farmer's market, Morrison Cup Solutions can deliver the product you need at a scale you can store and afford. Make sure your business is just as memorable as the beverage you serve with custom printed cups.
When you work with Morrison Cup Solutions, you'll get:
Streamlined Packaging
We keep ordering stress to a minimum with universally fitting lids for 12 - 24 oz hot paper cups. The last thing you need is an abundance of different sized coffee cup lids to store, sort, and offer to your customers.
Smaller Runs
Custom cup runs can be as small as 5,000 units, simplifying your business's storage challenge — and eliminating the worry of missed brand recognition opportunities. The last thing you want is employees tripping over outdated cups and our minimum order quantity ensures that never happens!
Inventory Control
Depending on order size, we offer floor stocking in our warehouses. We also can provide coffee sleeves, straws and bags with your delivery.
Top-Notch Customer Care
Get the answers you need — faster. Morrison Cup Solutions puts you in touch with your sales rep regularly, ensuring the quick customer service you deserve.
Working with Morrison Cup Solutions means working with the best.
Since 1912, Morrison Cup Solutions has delivered exemplary customer service that's unparalleled by the rest of our industry. We're ready to hear from you.