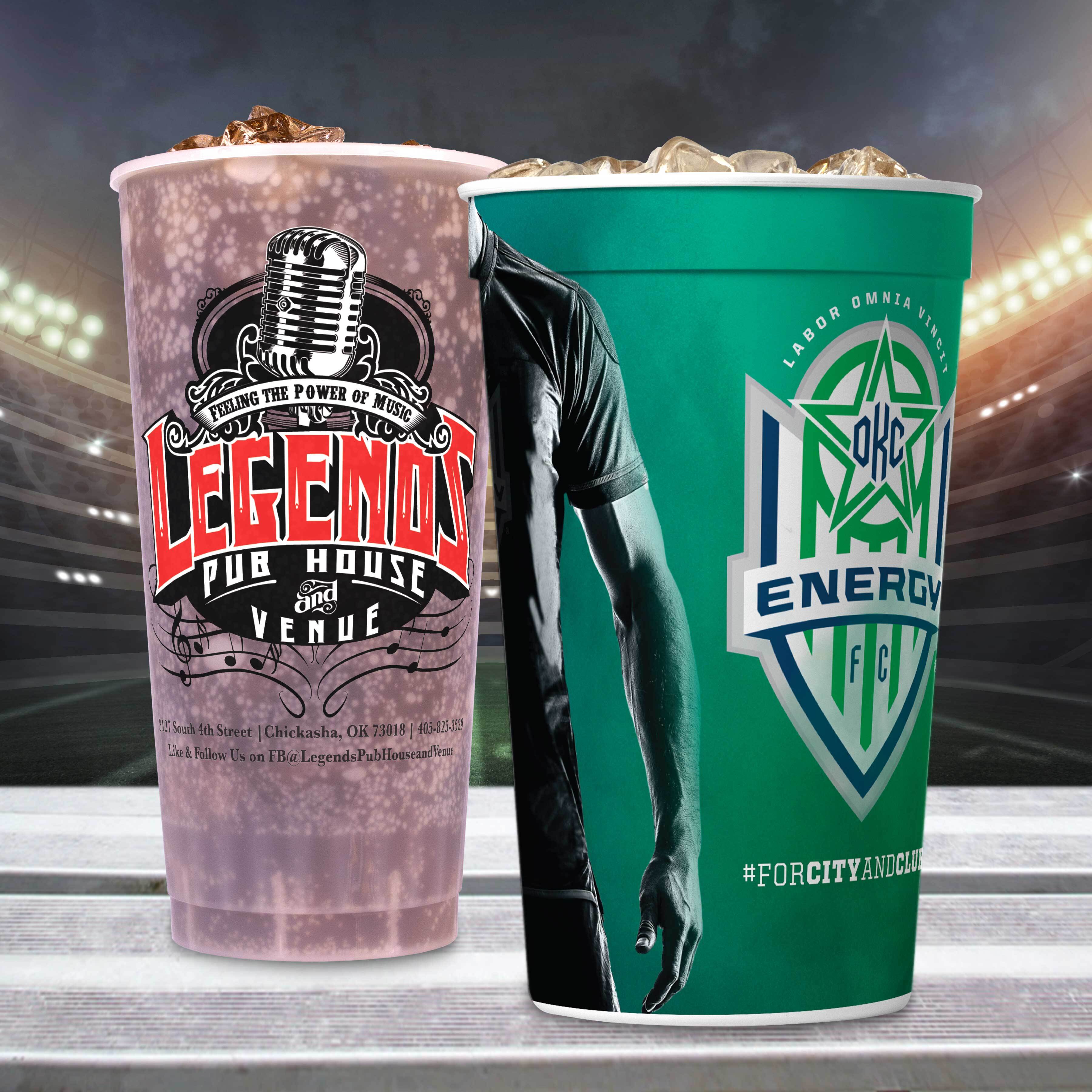 Promote your team or featured entertainment with custom printed cups.
Custom printed souvenir cups are an inexpensive way to promote your event, sports team, featured entertainer, or sponsors. They carry the benefit of being refillable and reusable therefore not ending up in the trash as quickly as generic plastic cups. And patrons tend to take them home to serve as a reminder of the fun times they had at your game or event.
We're doing our part to protect the environment.
As people return to in-person concerts and sporting events, attention is again turning to the environmental impact of single-use non-recyclable food and beverage containers used at these large gatherings. Many venues and event companies are shifting toward eco-friendly products to decrease their footprint.
Morrison Cup Solutions offers a variety of eco-friendly disposable cups and reusable drinkware options. We would be happy to work with you to customize any of our environmentally friendly products for your next game or event.
Soda, Beer, Mixed Drinks and More!
Explore our specific products to see what is right for you.
Top four reasons to buy cups from Morrison Cup Solutions.
Winning at most sports is all about ending the game with the highest score. That's not necessarily the way we win at Morrison Cup Solutions. We win by having the lowest — the lowest minimum run in the food service industry, low competitive prices, low production lead times, low turn-around time from start to finish.
We believe these lows combined with our top notch customer service makes our customers the true winners. If you want to win before the game or concert even starts, give us a call.
When you work with Morrison Cup Solutions, you'll get:
Streamlined Packaging
Use the whole line of Morrison products in venues like the bar and for fountain counters. Offering lids can help keep liquids off the floor which makes clean up go faster at the end of the event.
Smaller Runs
Custom cup runs as small as 5,000 units and a reduced number of SKUs to stock are the perfect solution for changing cups with every event or game. Smaller quantities mean you won't have to worry about ending the night with a pile of extras that you have to store.
Inventory Control
We keep lid hassle to a minimum with a universal lid for 12 - 24 oz plastic cups. Plus, we offer floor stocking for many orders, depending on order size.
Top-Notch Customer Care
We are always ready to help when you need it. Our sales representatives will have your best interests at heart.
Working with
Morrison Cup Solutions

means working with the best.

Since 1912, Morrison has delivered exemplary customer service that's unparalleled by the rest of our industry. We're ready to hear from you.