Compostable and recyclable drinking cups — all custom branded with your course's art.
Keep your players hydrated where they always want to be: on the fairway. One of the best ways you can do that? Customized, single-use cups.
Your Brand on Display
Morrison Cup Solutions goes above par for the course when creating, printing and delivering your custom printed paper, plastic and foam cups.
Aside from offering easy ordering and flexible shipping, we have the fastest production lead times in the industry.
Variety of Styles
No matter what your specific course needs, we deliver on our promise to create high quality custom cups with some of the lowest minimum order requirements available. Hot, cold, tall, short - whatever the needs of your golfing patrons we can satisfy them. This is what makes Morrison Cup Solutions a perfect choice whether you're switching from your current cup provider or ordering for the first time.
Distributor Friendly
Plus, if your club or course already uses distributors for your custom single-use cups, we're more than happy to work with them too. We have years of experience working with our colleagues in food service distribution.
Make your greens greener with our eco-friendly cup solutions.
Sustainable Cups
As a facility that sustains itself on playing your sport in nature, it's understandable that you want to protect the environment as much as possible — as well as reducing your ecological footprint. Your players also crave that sustainability on the course too when it comes to producing less waste when they play.
Eco-conscious Cups
At Morrison Cup Solutions, we have the perfect range of eco-conscious cup options for every substrate including compostable foam, petroleum-free paper and recyclable plastic. You can sleep easy knowing that your branded single-use cup has minimal impact on our planet.
Soft Drinks, Tea, Beer and More!
Explore our specific products to see what is right for you.
Tee off with Morrison Cup Solutions for custom branded cups, emblazoned with your golf course's art.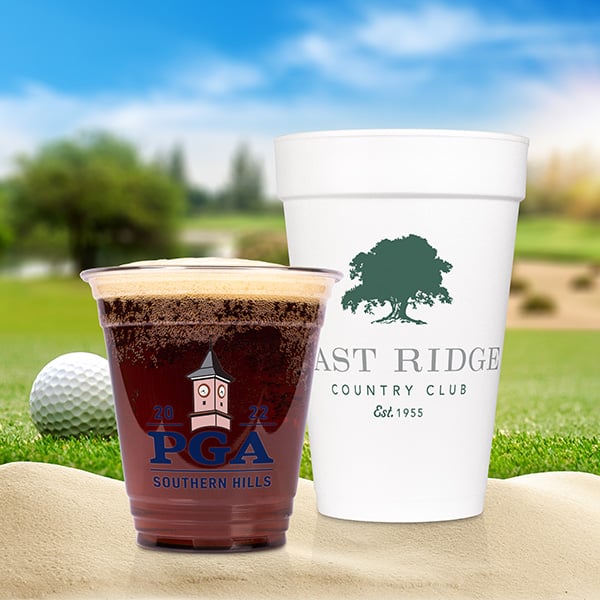 Golf is experiencing a resurgence of interest, which is great for the long-term growth of a course. And with an increased demand for golfing, that marks an increased demand for single-use cup products.

You've worked hard to curate your course's brand and branding is only as effective as its visibility. Your golf course cups should show off your brand, just as your hats and t-shirts do! No matter if you're handing out complimentary water cups or serving your customers their favorite beverage, Morrison Cup Solutions has customized cups that highlight the sophistication of your course with your logo and branding.
When you work with Morrison Cup Solutions, you'll get:
Streamlined Packaging
Many of the cup sizes and substrates your business depends on all take one universal lid and straw — which you can add to your order with ease.
Smaller Runs
Some of the minimum runs for our competitors can be more cups than your course may go through in a year. Knowing that is why we offer runs of custom printed cups as small as 5,000 units for your Country Club or golf course.
Inventory Control
Buying in bulk can cut costs, but it can take a toll on your storage space. Morrison Cup Solutions offers floor stocking your cups for orders over a specific threshold. You want golfers crowding out the course, not golf styrofoam cups crowding out your minimal storage space!
Top-Notch Customer Care
Talk to a real, live sales rep, not an automated voice message. When you need to contact someone at Morrison Cup Solutions, we're here for you.
Working with Morrison Cup Solutions means working with the best.
Since 1912, Morrison Cup Solutions has delivered exemplary customer service that's unparalleled by the rest of our industry. We're ready to hear from you.